AAALetter - December 2016
Date posted
December 1, 2016
Volume 28, Number 4
Table of Contents
---
A Message from the AAALetter Editor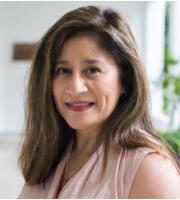 The month of December is an exciting month for many of us. It is full of celebration as we see some of our students participate in commencement ceremonies and others successfully end a new semester. As we conclude our semester, we also get ready to spend time with our families and/or friends at home or somewhere around the globe during this winter or summer break. December is also a month when we have an opportunity to pause and reflect upon the year's accomplishments or plan to achieve new and exciting goals!
In this edition of the AAALetter, you will find contributions that represent reflections of the past as well as insights into the future. Specifically, I have invited reflections from our outgoing executive committee (EC) members: Paul Kei Matsuda, Jeff Connor-Linton and Lucy Pickering. I believe you will find their pieces very inspirational. And you will read about our exciting future as we quickly approach our annual AAAL Conference and the AILA World Congress.
I believe you will agree with me that this issue of the AAALetter represents the highlights of the outstanding work that so many individuals contribute. These contributions range from the work of the EC to the support of the membership as they participate in the submission of proposals as well as the contributions of the reviewers who have the difficult task to select proposals for our annual conference. This AAALetter also reminds us of the opportunities we all have available to contribute service to our organization and profession, as in the invitation by the Chair of the Resolutions Committee to participate in the work he leads!
In this issue, our President offers her impressions of the past EC meeting held in Denver in October and you will also learn about the amazing work that the Graduate Student Council conducts, which I hope will serve as inspiration for many graduate students in our membership to want to seek involvement in our professional organization.
All is all, and in alignment with our President's message, one cannot but agree with Lucy Pickering's closing statement in her final reflection as outgoing member of the EC:
"We have a thriving and dedicated community of volunteers at the heart of AAAL, and I encourage all our members to serve when and where they can."
On behalf of all of us on the EC, I wish to extend our best wishes to each of you during this holiday season. May you all have a wonderful 2017!
PS: I look forward to seeing you in Portland, OR, this coming March 18-21, 2017!
---
President's Reflections on the AAAL Executive Committee Meeting in October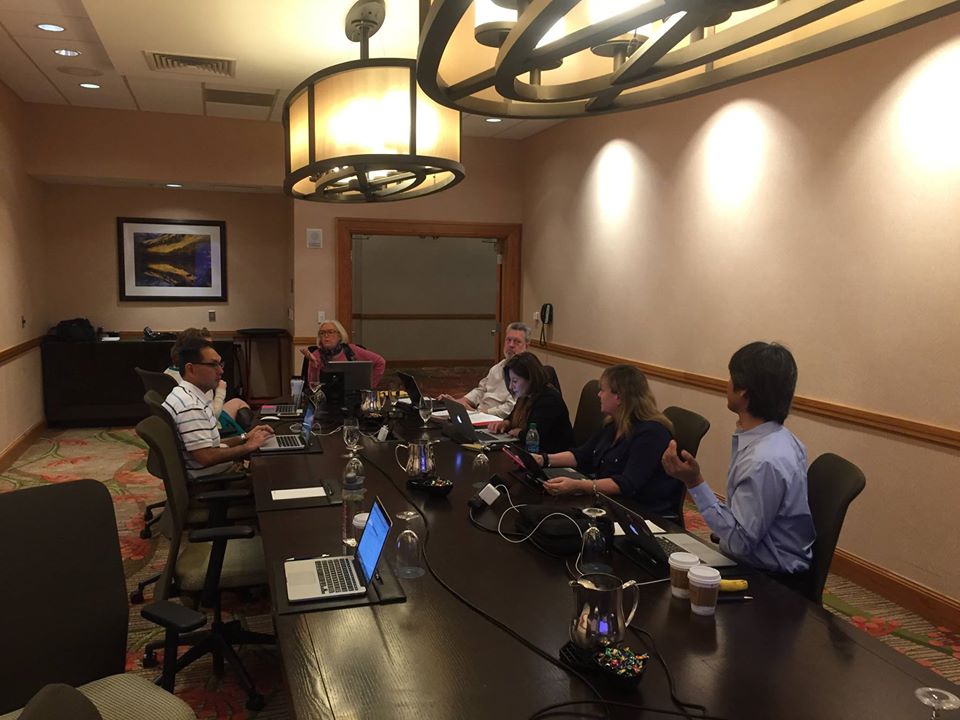 In October, the AAAL Executive Committee (EC) gathered in Denver for its midyear meeting. As the current President of AAAL, I found the preparation for and then the realization of this meeting to be both challenging and invigorating.
The Executive Committee consists of the four members in the Presidential line: Paul Matsuda (Past President), Tim McNamara (First Vice President), Linda Harklau (Second Vice President), and myself. The members-at-large are Lucy Pickering, Steve Thorne, and Peter de Costa. The non-voting members of the EC are Fabiola Ehlers-Zavala, our AAAL newsletter editor, and Lindsey Kurtz, who represented the Graduate Student Council.
We met Thursday afternoon, all day Friday, and Saturday morning. The agenda was wide-ranging and demanding, and I was delighted with the intense concentration and inquiry with which the EC members addressed the issues on the agenda. Among the key topics we deliberated were developing ethical guidelines for AAAL, relationships with other organizations, opportunities for leadership development for AAAL members, outreach, and advocacy, and of course, the association's finances.
At the end of the agenda, fifteen minutes had been saved in the agenda for me to comment, as the person presiding over this meeting. Instead of speaking, however, I asked the EC members two questions and requested that they each reply. The first question was "What is something you've learned by participating in this meeting?" The second question was "What is something you're proud of about this meeting?" As each EC member took a turn to comment, I was impressed with the thoughtful reflections and insightful responses they shared.
The EC and the Budget Committee will meet by conference call in January and February, respectively, and the EC will meet again in March, just before the opening of the AAAL Conference in Portland, Oregon. I am very excited to be working with this group of dedicated volunteer leaders. Their enthusiasm for AAAL and the energy they bring to the many tasks faced by the EC are truly impressive. If you have any questions or concerns you would like to share with me, please write to me at president@aaal.org and I will try to reply promptly and sensibly. I hope to see you in Portland!
---
1st Vice-President's Report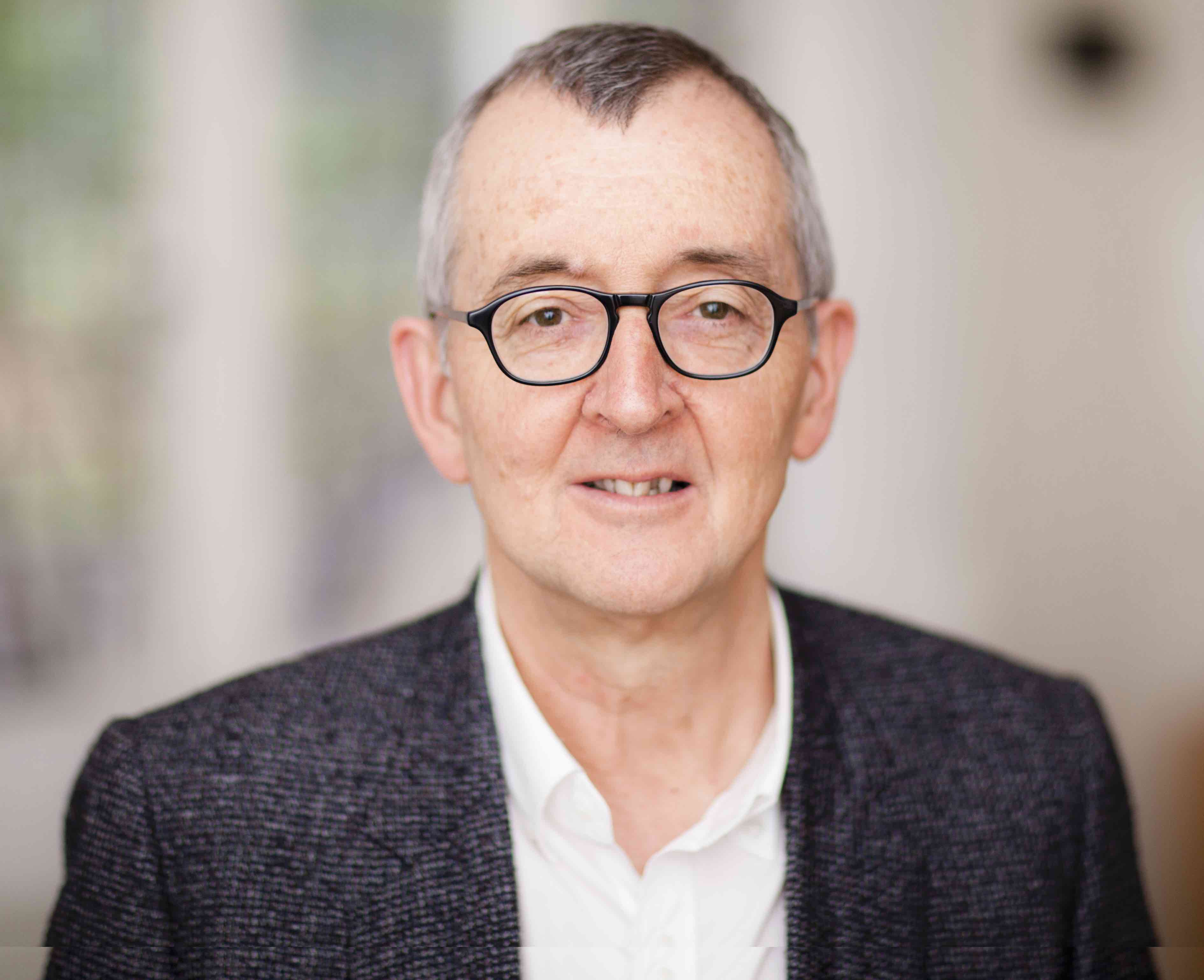 It is an exciting and busy time as preparations continue for the upcoming conference in Portland, Oregon, March 18-21, 2017. We were overwhelmed by the number of proposals received, nearly 2000, about 15% more than for recent conferences. This meant that the acceptance rate this year, particularly for individual papers, was lower, as unfortunately we have a fixed number of rooms and time slots for presentations. We have tried to achieve a better balance across the different strands, to reflect the number of proposals in each strand. The new Vocabulary strand attracted just under 50 paper proposals, in line with several established strands, and there are now plans to make it permanent. The experimental ten-minute shared shorter paper format has proved popular, with about 91 proposals received. In this format, presentations are restricted to ten minutes, with much more time allocated to discussion of the three papers in each session. We are interested to see how this new format is received by presenters and audience.
We have taken two initiatives to reflect the distinctive Portland location of the conference. Portland State University will host a special event on the evening before the conference opens, Friday, March 17th. A colloquium entitled 'Applying a Sociocultural View of Second Language Learning District-Wide: The Portland Case', organized by George Bunch and Aída Walqui, presents an ambitious effort to bring coherence to the education of English Learners in the Portland School District. Building on sociocultural notions of second language learning, the work encompasses district leadership, teachers, and an elementary school demonstration site. Presenters represent the diverse groups involved in the work.
Portland has also been in the news recently as one of the cities where reaction to the election of Donald Trump as President was given dramatic expression. Given that the voting outcomes in the past six months both in the US and in Europe have overturned many of the assumptions of current political and social life, I have asked Terry Wiley, President of the Center for Applied Linguistics in Washington, DC, to convene a special invited colloquium for an exchange of views on the question of our professional responsibility in such times and how we, as applied linguists, educators, and language professionals, can better reach broader audiences and stakeholders while impacting public and educational policy. This will be held during the lunchtime slot on Saturday March 18th. There will be short presentations with plentiful opportunity for discussion.
In an era of rapid change, an underlying goal in drawing up the program of plenary speakers and invited colloquia this year has been to advance the theoretical edge in our field, and to reflect fully the range of socially relevant contexts in which applied linguists work. To this end three of the plenary speakers are from outside applied linguistics. Janet Wiles is an engineer, working on communication with and between robots, and automatic procedures for conducting discourse analysis. Shaun Gallagher, a philosopher, has worked for many years on embodiment in cognition, an interest that resonates deeply with work by Chuck Goodwin and others in applied linguistics. Carolyn Miller's work on genre has been one of the most significant influences on the teaching of writing; her plenary will explore the extension of rhetorical approaches to genre into the visual realm. In addition, there are three plenary speakers from within Applied Linguistics: Li Wei on translanguaging; the Swiss SLA researcher Simona Pekarek Doehler on the development of interactive competence in a second language; and Suresh Canagarajah on the spatiotemporal dimension of professional communication in a second language. There are 10 invited colloquia in all – a rich feast.
Topics in the invited colloquia include sexuality and gender, the role of language in the current crisis around asylum seekers and refugees, ethnographic research methods, and transdisciplinarity as a frame for research in Applied Linguistics, along with many others.
The two preconference workshops have seen strong enrolments. The one organized by Jim Lantolf and Kees de Bot, 'Sociocultural Theory and Complex Dynamic Systems Theory: What can we learn from each other?' is already fully booked. The other, to be conducted by Luke Plonsky, 'Applying Research Synthesis and Meta-analysis in the Language Sciences', still has places available.
Portland is a lovely and interesting city, and the conference venue is well placed for easy exploration on foot, on the excellent public transport and of course by bicycle. Make sure you allow time to visit the exhibitions at the Portland Art Museum which will be on at the time of the conference: 'Constructing Identity', an exhibition of African American art; and 'Rodin: The Human Experience', an exhibition of 52 bronzes by the artist to commemorate the centenary of his death. For details, visit the Portland Art Museum website.
See you in Portland!
---
AILA Update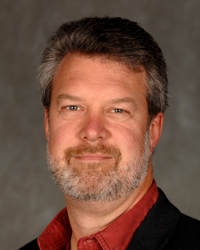 AILA's 2017 World Congress will take place July 23-28, 2017, in Rio de Janeiro, at the five-star Windsor Barra Hotel and Convention Center, south of Ipanema and just across the street from a spectacular beach. The Congress will be located on four floors of the same building with an ocean view terrace.
Six plenaries address the theme of the Congress—Innovation and Epistemological Challenges in Applied Linguistics:
Luis Paulo da Moita Lopes, "Queering Applied Linguistics: framing race and sexuality performativities outside modernity's persistent delirium."
Lorenza Mondada, "Situated and embodied expertise in social interaction: Encounters between food connoisseurs."
Mary Bucholtz, "Toward sociolinguistic justice for racialized youth."
Tommaso Milani, "Seeing like the South – Undisciplined applied linguistics."
Ben Rampton, "Sociolinguistics and (in)securitization."
Miralda Cavalcanti, "Navigating through multidiverse margins: ethical and epistemological challenges in doing Applied Linguistics in the South."
The academic committee accepted a total of 2234 abstracts in English, Portuguese and Spanish. ReN sessions will take place on Tuesday, July 25. In addition to the exciting academic program of symposia, papers, workshops and poster presentations, there will be a rich cultural and social program including a Brazilian dance show, an evening of samba dancing, and a pre-view of the AILA 2020 World Congress in Gwangju, Korea.
The conference website is at http://aila2017.com.br/index.php/en/. Early bird registration will be available from January 2nd through February 28, 2017. Regular registration will be open March 1-April 30. The final program should be available online by the end of May. The Windsor Barra and the Windsor Oceanico hotels can accommodate most of the participants; contact them through the conference website. Room rates range from $120 to $160/night (including breakfast and free internet) and can be shared by up to three people. For a supplement you can get a room with an ocean view. If you are travelling on a US passport, you will need a visa for Brazil; information at http://cgwashington.itamaraty.gov.br/en-us/applying_for_a_visa.xml.
See you in Rio!
---
Graduate Student Council Steering Committee Comings and Goings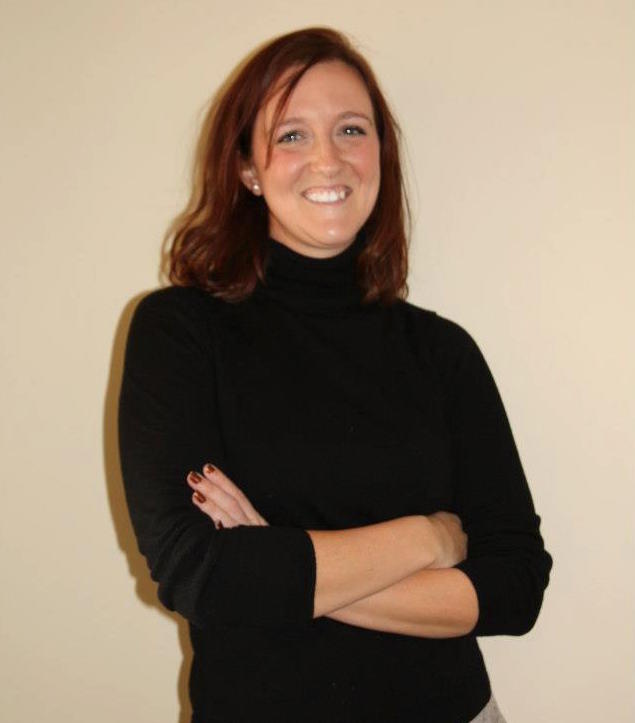 The Graduate Student Council's Steering Committee has been busy working to represent and advocate for graduate students in our field. In the following, I provide an update on our recent work:
New AAAL Grads Newsletter
The Steering Committee of AAAL's Graduate Student Council is pleased to report that the inaugural issue of our newsletter AAAL Grads went live in late November. The newsletter is part of the Steering Committee's mission to support the professional development of graduate students and to build a strong community of AAAL graduate student members. As such, student contributors wrote on a variety of topics related to graduate student life, including: balancing work and home life as a graduate student (Kendon Kurzer), transitioning from a Masters to a doctoral student in applied linguistics (Bingjie Zheng), navigating the job search (Elena Shvidko, Caitlin Gaffney & Huamin Qi), and developing as a writer and turning your manuscript into a publishable journal article (Rayoung Song). Newsletter co-editor and Steering Committee secretary Laura Hamman also reviewed The Professor is In in the newsletter's resource center. Graduate students can access the newsletter through the Graduate Student Council group when signed in at www.aaal.org or through our social media (see links below).
Look for the newsletter's second edition in early spring, loaded with more articles from graduate students about grad life and with plenty of tips and information for a successful AAAL conference!
Graduate Student Events at AAAL Conference
Speaking of the conference, grads should also be on the lookout for information regarding graduate student events at this year's conference in Portland. As in years past, the GSC Steering Committee is excited to plan two events for graduate students at the conference. Continuing the series of events related to the job market, one of the events this year will feature an exciting panel of speakers who have recently "made the transition" from graduate student to faculty member. These panelists will share their experiences and advice in making this crucial transition. The second event will feature another topic graduate students are keen on— publishing. Our "Publishing 101" event will allow graduate students to come together to ask questions and share experience, tips, and strategies related to publishing as a graduate student.
Steering Committee Basics
The Steering Committee represents the Graduate Student Council and is comprised of five members: two co-chairs, a secretary, and two members-at-large. The Steering Committee represents AAAL graduate students in various ways, including planning events at the AAAL conference, communicating with AAAL's Executive Committee about issues important to graduate students, and maintaining a social media presence. Lindsey Kurtz (co-chair), Menying Liu (co-chair), Laura Hamman (secretary), Rayoung Song (member-at-large), and Elena Svidko (member-at-large) currently serve on the Steering Committee.
Social Media
AAAL Grads are social! We love to hear from graduate students via social media about issues important to you and what we can do to serve you better. We also share calls for service and other GSC updates via Facebook (facebook.com/AAALGrad) and Twitter (@aaalgrad), so be on the lookout for ways to get involved.
---
Reflections from Outgoing EC Members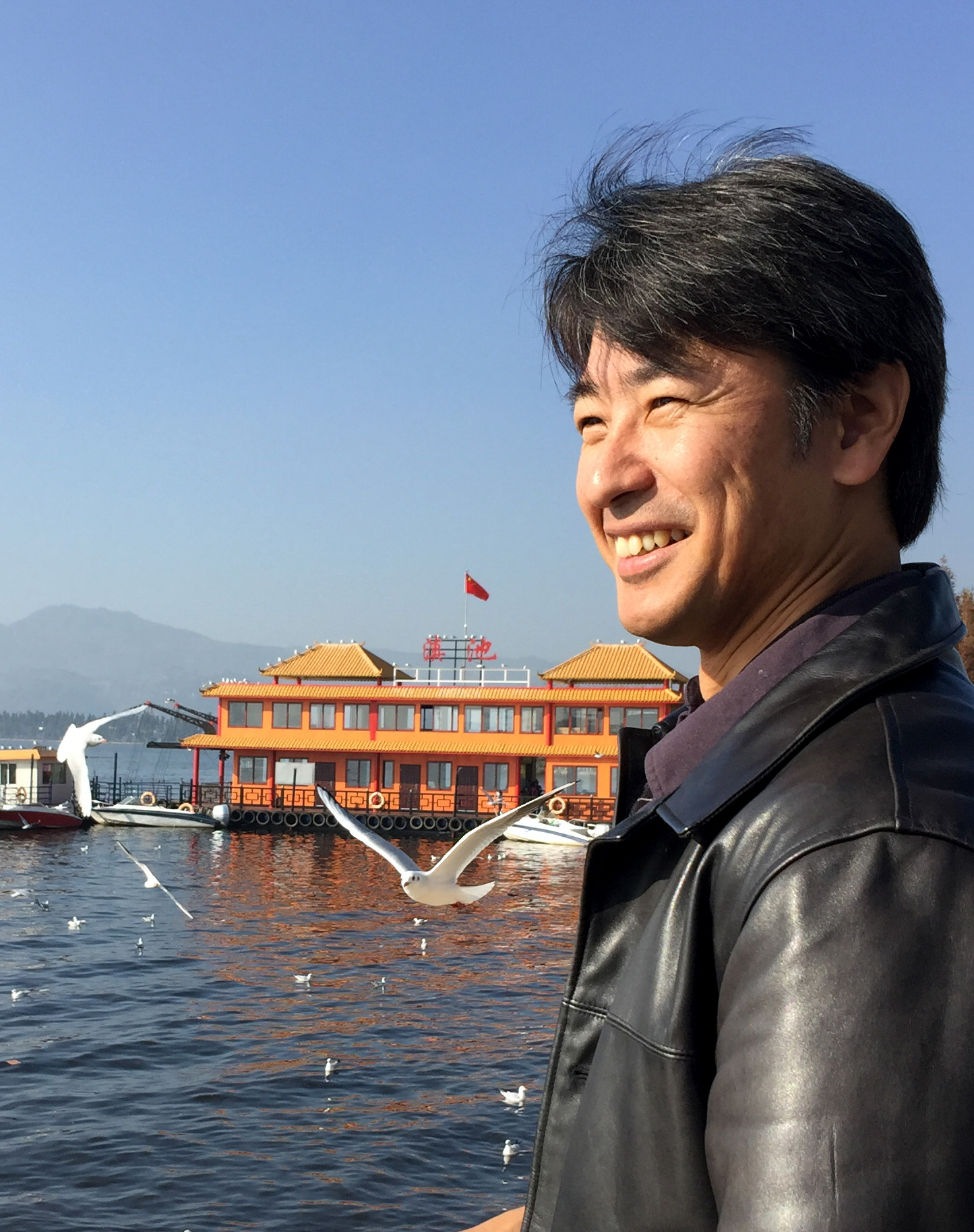 The last four years have been the busiest years of my career, but they have also been some of the most fulfilling ones for me professionally. I was grateful when I was given the opportunity to serve AAAL and all its members, and I bowed to use the opportunity not only to help make the organization better but also to make it more inclusive and participatory.
Through conversations with AAAL members over the years, I was keenly aware that many of them felt that AAAL seemed somewhat distant, especially from the perspectives of relatively new members or of those who, for various reasons, were not able to attend the annual conferences on a regular basis. Getting proposals accepted has been a challenge for many because of the growing number of applied linguists both within and outside North America, and because of various logistical constraints that limit the number of presentation slots.
AAAL leadership often consists of accomplished members of the field, and even though we are nice people (Believe me, we are!), I know some members feel intimidated to talk to us. Many members were not even aware that the Annual Business Meetings were open to all members!
One of my agendas was to make AAAL and especially the work of the Executive Committee more transparent and accessible to our membership. I used social media to provide more information about the EC and AAAL conferences. I explained the purpose of business meetings to many members and personally encouraged them to get involved. I also minimized my speaking roles to create more room for participation, and instead spent much of my time at the conferences interacting with conference participants.
Thanks to the help of many members who contributed to this effort in various ways, I have seen some good results. We have seen record turnouts at Annual Business Meetings. Many members responded to my posts and shared them with others. Seeing my effort to chat with the participants throughout the conferences, some of them conferred upon me the title of the "most outgoing president"!
At AAAL 2017 in Portland, I will complete my work as the Immediate Past President and my second term on the AAAL Executive Committee. At the conference, I will try once again to live up to the title of the most outgoing outgoing immediate past president. If there is anything I can do to help you understand the organization, how it works, how to get involved, and how to get the most out of the conference and the organization, please feel free to talk to me. I look forward to seeing and engaging in conversations with many of you there!
AAAL is my conference, and it is yours, too. I hope you will consider participating even more actively and making AAAL a better professional organization that can serve you needs and the needs of others.
Once again, thank you for the opportunity to serve all of you in this important capacity. It has been a real privilege serving you all!
---
This coming March, I will complete my four-year term as AAAL's Secretary-Treasurer. I've had the honor of serving for eight of the past ten years on AAAL's Executive Committee. It has been a rich and enjoyable learning and professional experience, and I welcomed the invitation from Fabiola Ehlers-Zavala to reflect on it in this issue of the AAALetter.
For me, organizing the 2009 annual conference was an invaluable update on the full scope of applied linguistics after more than 20 years in the field. My students and I experimented with scheduling papers together by topic and method rather than just by strand—to reveal connections among studies and researchers that might have gone unseen. In the years since, the EC has worked on the conference format to make it more useful to more members—for example, adding round table sessions to discuss work in progress and offering intensive pre-conference workshops on a range of research methods.
As President, one of my biggest challenges was to change the management of the association. Through a nationwide search, we were very fortunate to engage Nardone Consulting Group and our fantastic Managing Director, Sarah Berke. NCG's competence and Sarah's deft management have allowed the EC to take a strategic perspective that has significantly broadened AAAL's scope and enhanced its value to members in recent years.
My first year as Secretary-Treasurer, Joan Kelly Hall locked us in a board room in Portland for three days to generate AAAL's first (I think) strategic plan. I was skeptical at first until hundreds of post-it notes coalesced into a coherent, dynamic five-year plan with goals for providing resources for professional development; clarifying the identity of the field, the association, and its members; developing member benefits beyond the annual conference; developing professional guidelines; and expanding outreach and advocacy activities. Results of this plan include creation of the Graduate Student Council; development of new book and dissertation awards to recognize valuable contributions to the field; development of promotion and tenure guidelines to support applied linguists' careers; and creation of an expert database to help people find the applied linguistic resources they need. An overarching goal has been to involve more members in the leadership of the association, through the many task forces and committees which have accomplished these strategic goals.
AAAL has grown, matured, and become a much more dynamic organization over the past ten years. As international members of AAAL have come to constitute one-third of all members, the EC has focused on how to support the field of applied linguistics around the world. Efforts are underway to increase support for graduate students, who are the future of applied linguistics. And the EC continues to work on enhancing the value of the annual conference to members and awareness of applied linguistic research in the world beyond our association.
Serving on the EC has been personally and professionally satisfying and, yes, fun. I encourage you to get involved, volunteer for a committee, and, if the Nominating Committee gets in touch, say yes to a great opportunity.
---
The conference in March 2017 will mark the end of my three-year service to the AAAL membership as a member-at-large. I have been lucky enough to work alongside truly inspirational committee members who have dedicated their time to both listen to the membership and enact innovative and exciting policy changes.
As an Executive Committee our (sometimes, quite long) meetings have always been conducted effectively, but with a healthy dose of humor. I learned fairly quickly that I should carefully consider my words before I spoke and that listening to someone else was probably more important (an excellent lesson, I might add!) While I have been on the committee, I have had the pleasure of being part of initiatives such as our Pre-Conference Workshops, the Publishing guidelines, and the creation of the Graduate Student Council.
We have a thriving and dedicated community of volunteers at the heart of AAAL, and I encourage all our members to serve when and where they can.
---
Resolutions Committee - Message form the Chair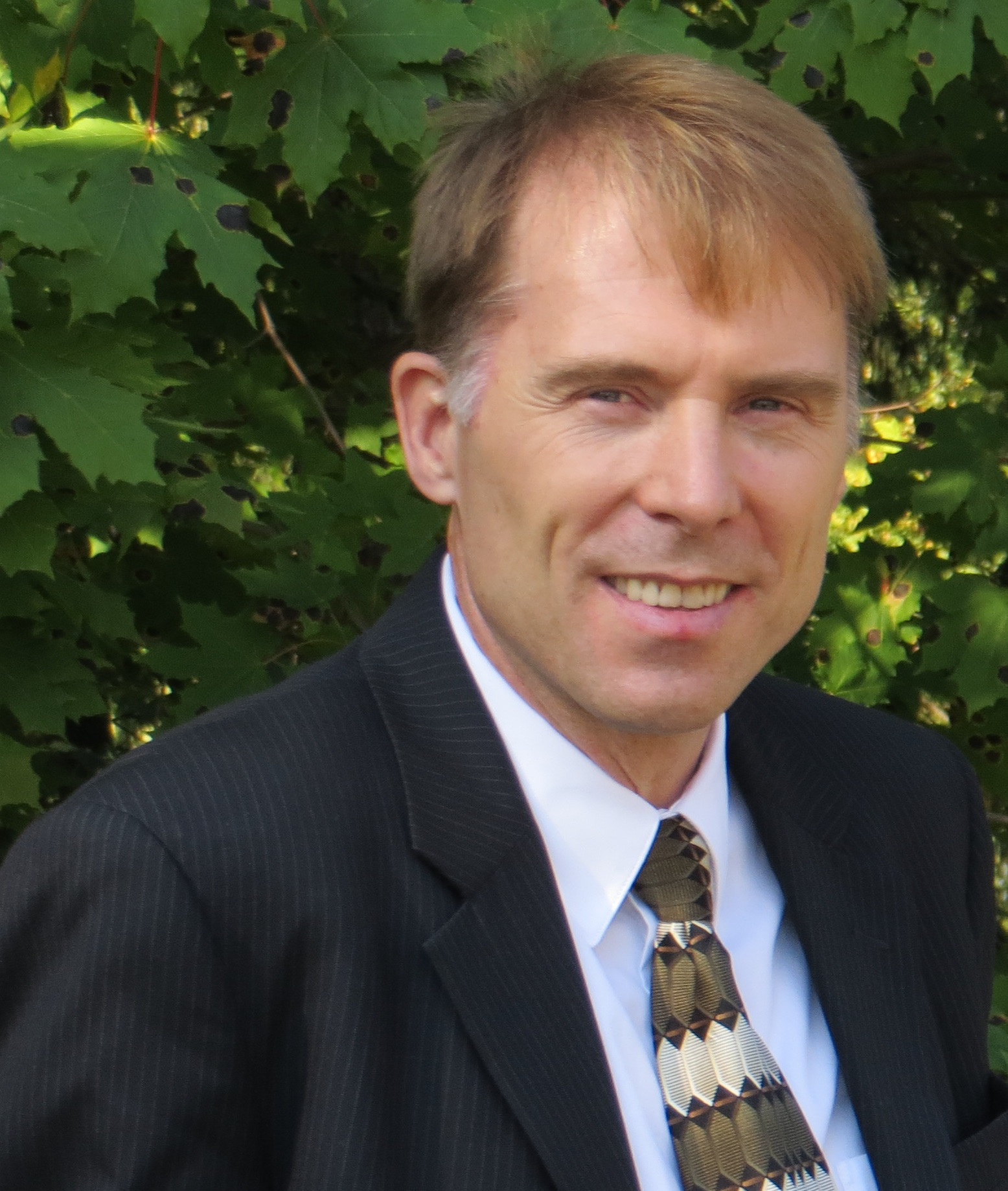 I am happy to be able to serve with several wonderful colleagues on the AAAL Resolutions Committee. Previously, this committee dealt with multiple types of resolutions, including those related to the internal governance and operations of AAAL, on the one hand, and those taking a stand on external issues or events that could have important social or political consequences, on the other. Going forward, the latter type of statement will now be handled by a separate AAAL committee. The Resolutions Committee is authorized to handle content resolutions dealing only with AAAL-internal matters, such as changes to the organization's Bylaws, Standing Rules, or procedures. Non-controversial courtesy resolutions can also be put forward through the Resolutions Committee. These are resolutions intended to offer congratulations or thanks to individuals for AAAL-related service, or to comment on or affirm support for current decisions, policies, or procedures internal to AAAL. Members of AAAL who are interested in submitting one of these types of resolution for consideration by the Resolutions Committee should follow the procedures described in the Standing Rules. In order to be considered for adoption at the 2017 AAAL Business Meeting, a draft of the resolution will need to be submitted to me via email attachment by January 2, 2017.