Fund for the Future of Applied Linguistics (FFAL)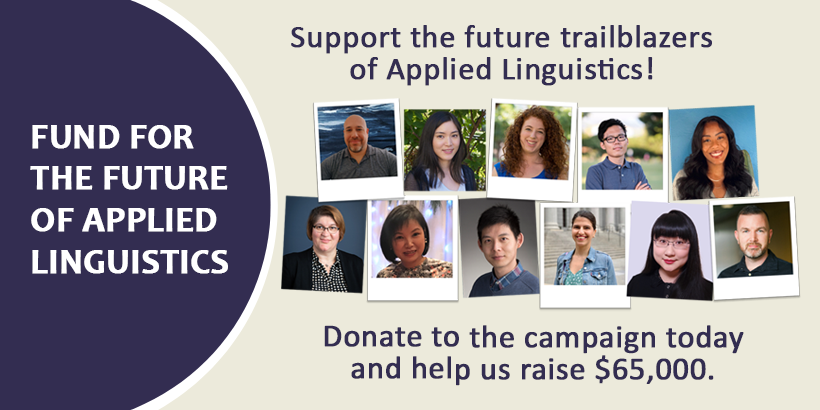 Support graduate student travel by contributing to FFAL. Your contributions help to sustain and grow this initiative. Please click here to make a donation. Please note that you must be logged in to the AAAL site in order for the receipt to post to your profile (utilizing the login box at the top of the screen). Alternatively, please feel free to send a check to:
AAAL Business Office
2900 Delk Road
Suite 700, PMB 321
Marietta, GA 30067
United States
---
Purpose
The goal of the Fund for the Future of Applied Linguistics (FFAL) has been to create an endowment fund to support graduate student awards to attend AAAL annual conferences. In this way, AAAL can offer an important growth opportunity for outstanding graduate students who will be the future of our profession.
---
Background
FFAL was established at the spring 2000 meeting of the AAAL Executive Meeting in Vancouver. The goal was to begin a public fund-raising campaign in fall 2000 and end the campaign in spring of 2003 with the goal of raising $100,000 for the endowment fund. The goal was officially met in summer of 2003 and the initial fund-raising campaign was ended. We would like to thank the more than 150 individual AAAL members and institutional contributors for their support during this campaign.

Success of the FFAL campaign is especially indebted to Multilingual Matters, Educational Testing Service, and Wilga Rivers for contributing major gifts that each funds a graduate student every year. This generosity is recognized by named awards:
• The Multilingual Matters Graduate Student Award
• The Educational Testing Service Graduate Student Award
• The Wilga Rivers Award
---
TeeSpring
You can support FFAL by purchasing products from the AAAL TeeSpring Account.
---
Remember Us

In Your Will
When you write your will, you can make a bequest in the form of cash or property by including the American Association of Applied Linguistics as a beneficiary. You can also contribute in the form of a residual bequest, which is a gift of all or a fraction of whatever remains after all debts, taxes, expenses and other bequests are paid. Here is an example of the language used:
"I give to the American Association for Applied Linguistics, currently located at 2900 Delk Road, Suite 700, PMB 321, Marietta, GA, 30067, United States, the sum of $_______ (or ________% of my estate) to be used in support of its general charitable purposes."
In Your Life Insurance Policy
You may name the American Association of Applied Linguistics as the owner and beneficiary of a new or existing life insurance policy. A gift of life insurance is separate from your estate and has no effect on its assets. A financial advisor or lawyer can provide you with more information about this form of giving.