Campaign to Sustain the Future of FFAL
2021-2023
For over twenty years, the FFAL endowment fund has provided travel awards to almost 100 deserving graduate students. Many of these individuals have joined the global network of applied linguists in various capacities and continue to support the mission of AAAL through their academic scholarship and service to the profession.
A new campaign has begun to increase the level of the FFAL endowment by $65,000 by the end of the AAAL 2023 conference. This will allow the endowment to maintain the same level of support for graduate student travel for the next two decades despite any investment income instabilities.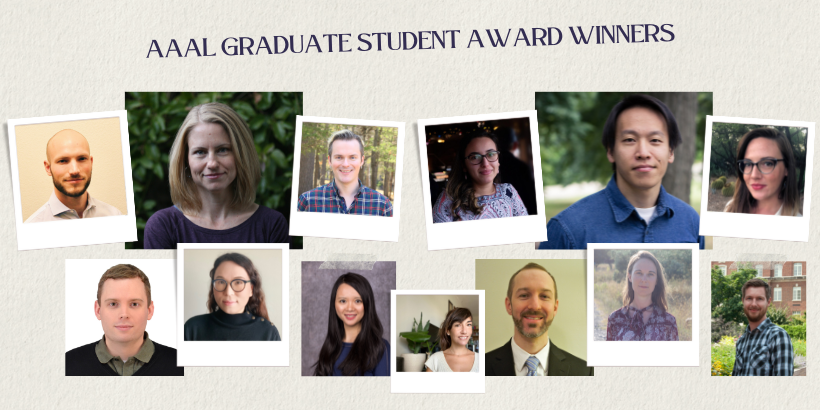 ---
---
Thank you to our generous donors who have already given this campaign cycle!
Add your name before the next Donor Circle update!
---
| | |
| --- | --- |
| Patsy Lightbown | In Honor of Lightbown Family Giving Trust |
Heidi Byrnes

Suresh Canagarajah

Carol Chapelle

Jodi Crandall

Tracey Derwing

Patricia Duff

Fabiola Ehlers-Zavala

Susan Gass

William Grabe

Agnes He

Yasuko Kanno

Shawn Loewen

Mary McGroarty

Lourdes Ortega

John Schumann
Ida K. Chen

Sue Dicker

Nick Ellis

Scott Jarvis

Joan Kelly Hall

Linda Harklau

Carol Klee

Diane Larsen-Freeman

Glenn Martinez

Mary McGroarty

Bonny Norton

Amy Ohta

Dudley Reynolds

Mary Schleppegrell
Paul Angelis

Sarah Benesch

Donna Christian

Dorothy Chun

Jan Frodesen

Meg Gebhard

Linda Harklau

John Hedgcock

Kristin Hiller

Akiko Katayama

Hayriye Kayi-Aydar

Paul Kei Matsuda

Kendall King

Kimi Kondo-Brown

Nasrin Kowkabi

Ryuko Kubota

Jongbong Lee

Elizabeth Miller

Charlene Polio

Dennis Preston

Peter Sayer

Mary Schleppegrell

Brooke Schreiber

Shawna Shapiro

Megan Solon

Kelleen Toohey

Aurora Tsai

Daniel Walter

Doris Warriner

Paula Winke

Wayne Wright

Richard Young
Stephanie Abraham

Emmanuel Aito

Adnan Ajsic

Josephine Akabogu

Farah Akbar

Sarab Al Ani

Mashael Al-Jasir

Basim Alamri

Ghadah Albarqi

Darrell Allen

Gunhild Alstad

Angelica Amezcua

Frieda Amitai

Elena Andrei

Sible Andringa

Theresa Antes

Jarely Aragon Ramirez

Maria-Jose Arrufat-Marques

Hina Ashraf

Muzna Awayed-Bishara

Kathleen Bailey

Ashley Batchelor

Robert Bayley

Suzie Beaulieu

Sam Behroozian

Diane Belcher

Philippa Bell

Michael Benac

Cynthia Berger

Rachel Bhansari

Rakesh Bhatt

Martha Bigelow

Adrian Blackledge

Kingsley Bolton

Sovicheth Boun

Harriet Bowden

Nadine Bravo

Genevieve Brisson

Jason Brown

Victor Brunko

Katharine Burns

Jill Burstein

Ben Calman

Lourdes Cardozo-Gaibisso

Anne Carney

Theresa Catalano

Amanda Cataneo

Jasenka Čengić

Virak Chan

Xia Chao

Lang Chen

QINGYUE CHEN

Winnie, Xuchuan Chen

An Cheng

Sidury Christiansen

Rhonda Chung

Giulia Ciaghi

Thomas Cobb

James Coda

Marilee Coles-Ritchie

Lindy Comstock

Viviana Cortes

Matt Coss

Troy Cox

Cori Crane

Scott A Crossley

Keith Cunningham

Diane Dagenais

Liv T. Davila

Larry Davis

Maria J de la Fuente

Taciana de LiraSilva

Luciana de Oliveira

Elizabeth Deifell

Robert DeKeyser

Gabriela DeRobles

Sandra Descourtis

Yuliya Desyatova

Dmitri Detwyler

Kristen Di Gennaro

Wenhao Diao

Beth Dillard

Melinda Dooly

Meredith Doran

Pedro dos Santos

Wilson Douce

Mark Dressman

Sibusiwe Dube

Sebastien Dubreil

Akiko Eguchi

Roxanne Elliott

Olivier Elzingre

Richmond Embeywa

Mary joy Emeribe Sr.

Cecilia Espinosa

Corinne Etienne

Doreen Ewert

Iuliia Fakhrutdinova

Mandy Faretta-Stutenberg

Shima Farhesh

Aline Ferreira

Patricia Ferreyra

Heather Finn

douglas fleming

Sabrina Fluegel

Giacomo Folinazzo

Achille Fossi

Raiza Franco Arestegui

Akiko Fukuda

Ondine A. Gage

Angelica Galante

Xuesong Gao

Paula Garcia Montes

Rebecca Garvin

Ardeshir Geranpayeh

Betsy Gilliland

Joel Gomez

Teresa Gonzalez

Marta Gonzalez-Lloret

Bridget Goodman

Saurav Goswami

Panayota Gounari

Jennifer Green

Olga Griswold

Jia Guo

Laura Gurzynski-Weiss

Akiko Hagiwara

Akiko Hagiwara-Endo

TImothy Hall

Florian Hameau

ZhaoHong Han

Mari Haneda

Alissa J. Hartig

Robin Harvey

Victoria Hasko

Mamoru Hatakeyama

Eric Hauser

Peichang HE

John Hedgcock

Emily Heidrich-Uebel

Joel Heng Hartse

Julie Hengst

Alastair Henry

Jose Herazo

Darrin Hetrick

Kathleen Anne Heugh

Christina Higgins

Kristin Hiller

Barbara Jean Hoekje

Alyson Horan

Yaeko Hori

Marlise Horst

Philip Hubbard

Melissa Huerta

Stephan Hughes

Yo In'nami

Takashi Ishizaki

Jazmina Isordia

Anna Isozaki

Alessia Iurato

Frederick H Jackson

Xiangying Jiang

Xiaona Jin

Mark Johnson

Larissa Jonk

Jay Jordan

Renee Jourdenais

Päivi Juvonen

Hazem Kairouz

Takeshi Kajigaya

Paula M. Kalaja

Lia Kamhi-Stein

Tingting Kang

Mehrnoush Karimi

Micheline Kaufmann

Ayano Kawasaki

Emily Kelly-Hollier

Matt Kessler

Eric Keunne

Beverly Khabo

Su Yin Khor

Catherine Kim

Eun Gyong Kim

Ha Ram Kim

Han Gil Kim

Kathy Kim

Betul Kinik

Andy Kirkpatrick

Elizabeth Kissling

Ryu Kitajima

Liudmila Klimanova

Keiko Koda

Lucas Kohnke

Olexandra Kostenko

Bal Krishna Sharma

Maggie Kubanyiova

Jared Kubokawa

Beatriz Lado

Pia Lane

Jenifer Larson-Hall

Batia Laufer

Jungmin Lee

Duanduan Li

Kuang Li

Xiaorui Li

Yongyue Li

Ryan Lidster

Niina Lilja

Gunhild Iris Lischke

Jason Litzenberg

Qian Liu

Carol Lo

Patria Lopez de Victoria

Lucilla Lopriore

Barbara Loranc-Paszylk

Matt Lucas

Han Luo

Jennifer MacDonald

Brian MacWhinney

Laura Mahalingappa

Meg Malone

Jeffrey Maloney

Stefano Maranzana

Faith Marcel

Silvia Marijuan

Erin Marks

Patrick Marlow

Wendy Martelle

Eric Martin

Jana Martin

Kahoko Matsumoto

Yoshiko Matsumoto

Hunter McKenzie

Paul McPherron

Paul Meighan

Natalia Meir

Anna Mendoza

Gabriel Michaud

Tommaso Milani

Nicole Mills

Valeriya Minakova

Rosamond Mitchell

Micah Mizukami

Ayman Mohamed

Reda Mohammed

Tatiana Molokopeeva

Christine MoonKyoung Cho

Sarah C. K. Moore

Nina Moreno

Sibonile Mpendukana

Jeong Mun

Dianna Murphy

Toshiyo Nabei

Marie Nader

Mutsuko Nagasaki

Charlie Nagle

Shingo Nahatame

Pooja Nakamura

Lama Nassif

Heike Neumann

Kyle Nuske

Rhonda Oliver

Mike Olsen

David Olsher

Onderozdemir Onder-Ozdemir

Toril Opsahl

Elizabeth Osbourne

Ana Oskoz

Seda Ozbek-Damar

Yusuf Öztürk

Stefania Pace

Kate Paesani

Raymond Pai

Daniel Palacio

Adrian Palmer

Steven Paquin

Jee Hye Park

Jagadish Paudel

Eric Pelzl

Romina Pena-Pincheira

Antonio Alejandro Perez Belda

Tachini Pete

Prem Phyak

Geoffrey Pinchbeck

Rachel Pinnow

Lia Plakans

Livia Poljak

Anne Pomerantz

Sabrina Priego

Paul Prior

Kerry Pusey

Shaoyan Qi

Jie Qin

Eihab Abu Rabiah

Soyele Rafiu Adekola

Jim Ranalli

Jason Ranker

Aisulu Raspayeva

Midori Raymond

Carol Ready

Marnie Reed

Jonathon Reinhardt

Xiaoyan Ren

Randi Reppen

Andrea Revesz

Alexandra Reyes

Carol Rinnert

Kate Rolander

Yasmine Romero

Greg Rouault

Sylvie Roy

Fernando Rubio

Natalia Rud

Chrissie Russell-Wilson

Misumi Sadler

Randall Sadler

Ali Safivand

Ana María Sagre

Noelia Sánchez Walker

Cristina Sanchez-Martin

Jade Sandbulte

Maricel Santos

Cristina Sanz

Ryuichi Sato

Rebecca Sawyer

Peter Sayer

Sandra Schecter

Rebecca Schmor

Andre Scholze

Mathias Schulze

Shana Scucchi

Andrew Seibert

Lisya Seloni

Sadia Shad

Kayvan Shakoury

Fiona Shaw

Ari Sherris

Dong-shin Shin

Natsuko Shintani

Sonia Shiri

Daniel Silva

Rita Elaine Silver

Eilidh Singh

Stephen Skalicky

Nienke Smit

Elizabeth Smolcic

Bill Snyder

Shelley Staples

Sue Starfield

Kayla Stenstrom

Crissa Stephens

Jeffrey Stewart

Joon Suh Choi

He Sun

Benio Suzuki

Mitsuko Suzuki

Nadja Tadic

Christine Tardy

Diane Tedick

Gudrun Theodorsdottir

Paul Thompson

Steven Thorne

Tomoko Tode

Doris Torres

Paul Toth

Robert Train

Tyler True

Alexandra Tsedryk

Amelia Tseng

Namiko Tsuruta

Paola Uccelli

Rachelle Udell

Alfredo Urzua

Andy Vajirasarn

Pouya Vakili

Antonella Valeo

Margaret van Naerssen

Saskia Van Viegen

Stephanie Vandrick

Manka Varghese

Gene Vasilopoulos

Deryn Verity

Mark Visonà

Gergana Vitanova

Sara Vogel

Manuela Wagner

Margi Wald

Thomas Walker

Tianfang Wang

Amber Warren

Suwako Watanabe

Linda Waugh

Sabrina Wesley-Nero

Matthew Wilcox

Claudia Willis

Shameeka Wilson

Betsy Winston

Melanie Wong

Andrea Word-Allbritton

Vicky Xiong-Lor

Junichi Yagi

Kimie Yamamura

Katherine Yaw

Bedrettin Yazan

Sabahattin Yeşilçınar

Birgul Yilmaz

Monique Yoder

Katsuya Yokomoto

Hye Joon Yoon

Di Yu

Hui Zhang

Maverick Zhang

Meixiu Zhang

Jing Zhou

Michael Zuniga

Elizabeth Zwanziger