Back to Events
Other Related Conferences
Call for Papers: Intercultural Competence Conference
Monday, June 21, 2021
Event Details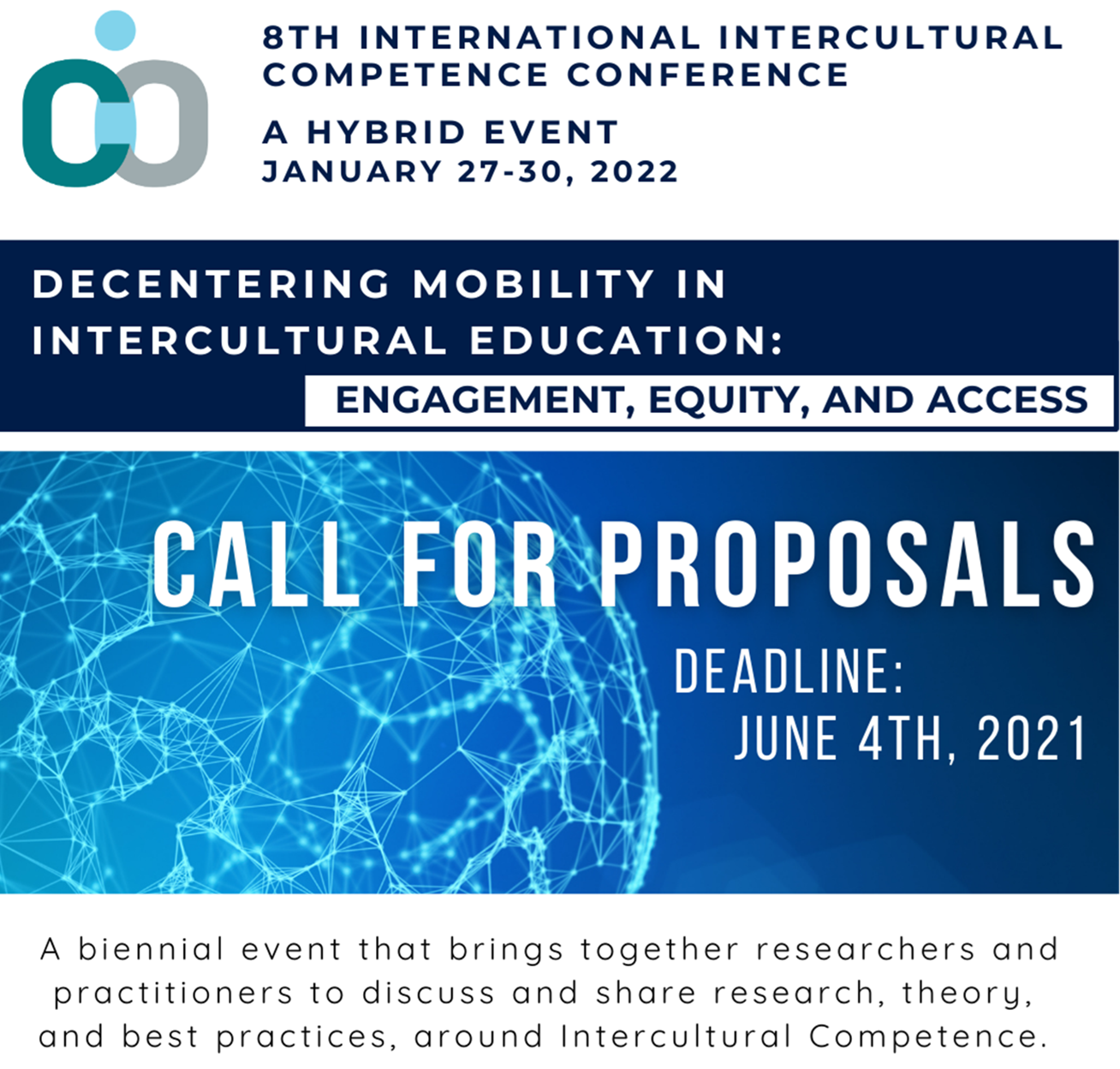 Plenary Speakers
Uju Anya, Pennsylvania State University
Maria Dasli, University of Edinburgh
Jennifer Pipitone, College of Mount Saint Vincent
The Intercultural Competence Conference is organized by the Center for Educational Resources in Culture, Language and Literacy (CERCLL) at the University of Arizona. It will take place January 27-30, 2022 in Tucson, Arizona, and online.
In January 2022, the eighth Intercultural Competence Conference will be a hybrid event on the theme of Decentering Mobility in Intercultural Education: Engagement, Equity and Access. Presentations will focus on the ways in which intercultural communication and the teaching and learning thereof have been shaped through mobility – both virtual and physical. Of particular interest are contributions that address how the changing state of intercultural communication has been shaped by a world that is simultaneously more and less mobile, for example, due to differences in access among learners or to changing circumstances, such as the current global health crisis.
Authors are asked to consider the following questions as they prepare their abstracts:
What are the potentials and pitfalls of current models, concepts, and frameworks for intercultural learning? In what ways is mobility potentially romanticized or reified within them? What kinds of learning and learning outcomes do different ways of thinking about mobility privilege and encourage?
In what ways have the kinds of virtual mobility enabled by digital technology impacted intercultural communication and the teaching thereof? How might we revisit and rethink more analog forms of virtual mobility, such as those afforded through literature, visual art, and film, in dialogue with those experiences through new media including networked communication platforms, social networking sites and virtual reality? How do forms of virtual and physical mobility intersect in the actual experiences of learners?
How can educators best be prepared to support intercultural communication in virtual or physical mobile experiences? What findings and new directions does current research offer us for answering this question?
Authors will select from among the following strands:
Theory and approaches
Assessment
Curriculum design and instruction
Policy and institutional initiatives
Exchanges (physical and virtual)
Service/Community learning
Professional development of educators

Proposals will be submitted as one of five types: paper, symposium, roundtable discussion, poster, and workshop. See the complete submission guidelines for more about the conference theme and the format of these presentations, proposal restrictions and limitations, access to the online proposal submission form, and notification dates, etc.
During the submission process, authors will indicate whether they would like to present their work in person or virtually. Given the changing context of the pandemic, the conference organizers will contact prospective presenters about the final form of their presentation when acceptance status notifications are sent.

Questions? Contact CERCLL at cercll@email.arizona.edu.

Proposal Submission Deadline: June 4, 2021, 11:59 pm (PST).